Auf den Spuren ihrer Geschichte?:
Black German Female Detectives Anäis Schmitz and Fatou Fall
Alles klar, Frau Kommisarin? This quote is in reference to the white Austrian singer Falco's international chart-toping song, "Der Kommissar," in which he addresses a female figure who is "rappin' to the beat" and misses her "funky friends." Falco highlights white European stereotypes of Black women in the song and also brings the detective in town into the lyrics. In this paper, I explore white Germans' stereotypical rendering of mediated Blackness, as well as Black Germans' self-representation through the analysis of two Black German female detectives, both of whom are firsts in German literature and television.
In 2019, Florence Kasumba, best known for her role in the Hollywood blockbuster Black Panther, became the first Black German to star as a detective in Germany's almost 50-year old television crime series, Tatort. The title of the first Göttingen Tatort presenting detective Anäis Schmitz is "Das verschwundene Kind" or "The Lost Child." This episode vaguely introduces the viewer to Schmitz's character and her background but seemingly foregrounds her rage. Also, in 2019, Noah Sow published the first German novel to feature a Black German female detective, Die Schwarze Madonna: Afrodeutscher Heimatkrimi. In this work, Sow engages with and combats white German stereotypes through the agency of her Black German characters, Fatou Fall, a department store detective, and her daughter Yesim. Both witness a racist hate crime, while visiting Fatou Fall's childhood home in Bavaria.
Each of these representations of Black German detectives are constructed through different lenses. On the one hand, white Germans largely write, produce, and film Tatort, while on the other hand, Noah Sow is a Black German activist, writing out of her own experience and positioning. As such, I explore the differential mediated representations of these two Black German female detectives to demonstrate the shift in the narration of Black German subjectivity from one that is stereotyped to one that is agential. Moreover, I investigate the role of Black Germans' fictional presence in smaller scale towns as an inscription of Black Germans into the national narrative at a local level. When the lens zooms in or the magnifying glass makes Black Germans visible as a minority, not only in large-scale cities, their rootedness/ embeddedness within the national context of Germany as home becomes clear.
Biography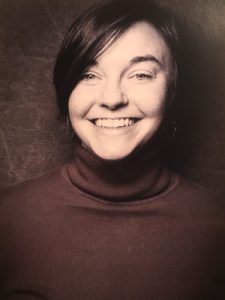 Vanessa Plumly is Assistant Professor of German at Lawrence University, faculty affiliate in Ethnic Studies, and an ACM Mellon Faculty Fellow. She received her PhD in German Studies from the University of Cincinnati, her MA in German Studies from the University of Kentucky, and her BA in German and History from Bethany College. From 2015-2019, she was a Lecturer and the German Program Coordinator at the State University of New York at New Paltz, where she was also an affiliate in Women's, Gender and Sexuality Studies and Jewish Studies.
In 2018, Plumly co-edited the volume Rethinking Black German Studies: Approaches, Interventions and Histories with Dr. Tiffany N. Florvil. Together with Florvil, she also has recently initiated a series entitled "Imagining Black Europe" through Peter Lang Press.
Plumly has published her scholarship in peer-reviewed journals and edited volumes, exploring topics such as on surveillance in the German crime series, Tatort, pedagogical approaches to the German past through film, refugee assemblages and the intersectionality of fear, the Black German hip-hopper Samy Deluxe, and most recently on Black Germans' decolonization of Heimat (Home). Her forthcoming research focuses on post-imperialist façades, linked security, and Black German's racial hauntings.
Currently, Plumly serves as co-chair of the Black Diaspora Studies Network at the German Studies Association and is Review Editor for H-Net Black Europe. In 2018, she was awarded the AATG/German Embassy Teacher of Excellence Award.