Dissent, Dissonance, Re-visioning: Performing 'The Black National Anthem' in Germany
This presentation examines the 2011 performance of Afro-German jazz singer Jessika Banzouzi at the home-going ceremony for Herero remains in Berlin, Germany. Banzouzi's performance of James Weldon Johnson's "Lift Every Voice and Sing" (also known popularly as "The Black National Anthem") demonstrates the ways in which the demand for an oral/aural representation of nation–and for a sonic suture–marks the historical elisions that mask colonial/imperial/national power and violence. In her performance at a moment meant to signal rapprochement between Germany and Namibia, Banzouzi alerts us to the tensions between a nation's desire for constitutive and reparative labor and the performers' articulation of her own vocal politics.
Biography: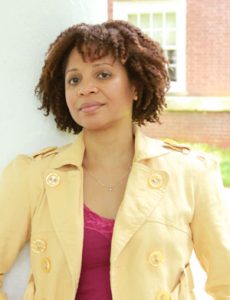 Sonya Donaldson is Associate Professor of English at New Jersey City University. She earned her Ph.D. in English from the University of Virginia, where her research focused on Afro-German autobiographical narratives. In addition to her digital humanities project, "Singing the Nation into Being: Anthems and the Politics of Black Performance," Donaldson is also completing a book manuscript, Irreconcilable Differences?: Memory, History, and the Echoes of Diaspora, which examines autobiographical narratives, music, and performances by Black writers and artists. Donaldson is currently a Virginia Humanities Fellow and a Visiting Scholar at the University of Virginia's Scholars' Lab. Her work has appeared in Callaloo, The Feminist Wire, African and Black Diaspora: An International Journal, and Women, Gender, and Families of Color.