Brothers Keepers and the Black Radical Tradition in Germany
In this paper, I will focus on the radicality of the hip hop collective Brothers Keepers (BK). In terms of Black radical activism and freedom-seeking in Germany, scholars mostly focus on the Black German women's movement of the 1980s, Farbe bekennen, ADEFRA, and the ISD, and rightfully so. It might be the most studied part of Our history, and for many, it was this moment that led to a collective feeling of We. But for some of Us, this part of Our history made no discernible impact, or at least not directly — because some of Us were too young, not connected to radical circles, or for other reasons. But when twenty years later BK responded to the brutal killing of Alberto Adriano by Neo-Nazis in Dessau in their 2001 album Lightkultur and used terms like Afrodeutsch, Black Germany, and Schwarze Deutsche, they weren't operating in a vacuum. Tyron Ricketts's song "Afrodeutsch" harks back to Farbe bekennen and its Black life writing, and "Adriano (Letzte Warnung)" echoed a Black Panther type of rhetoric advocating for collective self-defense in Germany and elsewhere, violently if need be. BK created a discernible moment of feeling that collective and diasporic We, more mainstream than its predecessor and more accessible via popular music channels, media, and the internet. This all-Black radical anti-racism project brought together hip hop, soul, and reggae transnationally (UK, US, and Jamaican artists contributed as well). Still, BK was criticized by the non-Black hip hop community in Germany for not being inclusive enough and faced public backlash for suggesting more forceful self-defense. In actuality, their radical praxis included teach-ins, school visits, and information campaigns. By connecting BK to their predecessors I aim to identify a Black Radical Tradition in Germany, concluding that Germany is a space of creative forms of resistance that should be conceptualized as valuable additions to the Black Radical Tradition more generally.
Biography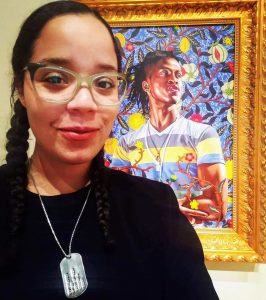 Kevina King is a Black German woman from Berlin. She has spent half of her life in the US where she earned her Master's with a focus on Black German history, Black German music, and the Black Diaspora. Her contribution in the 2018 edited volume Rethinking Black German Studies: Approaches, Interventions and Histories focuses on racial profiling in Berlin since 2001 and local organizations fighting to mitigate the harmful consequences. She is currently working on her dissertation, entitled Black German Resistance in the Twenty-First Century, which examines Black German radical expressions via digital media, including music, videos, and podcasts.