"Wir hatten ein freies Leben." – Growing up in the Albert Schweitzer children's home for mixed-race children in the early Federal Republic: An Afro-German Experience
In her keynote at the "International Black German Conference" in 2012, the historian Yara-Colette Lemke Muniz de Faria focused on Afro-German children raised in German orphanages in the 1950s.1 In her lecture she highlighted the Albert Schweitzer children's home (ASK) for mixed-race children, founded in 1952 in North Rhine-Westphalia by Irene Dilloo. Regarding the ASK, letters and postcards of the children are important sources which provide unique insight into their personal experiences growing up in the ASK and the care system in general. The ASK was closed in 1959. While some children from the home remained in Germany, others were adopted to Denmark. This paper extends the groundbreaking research of Yara-Colette Lemke Muniz de Faria on the ASK and on the experiences of Afro-Germans who were raised in children's homes in Germany after 1945. Its focus is on the biography of Renate Müller-Klaasen2 who was born in 1946 in Hesse. At the age of four, Mrs. Müller-Klaasen was placed in a catholic orphanage by order of the youth welfare office. She lived for fifteen years in different forms of institutional care with at least five of these years in the ASK.
On the basis of her life story, the following questions will be answered: What were the reasons for placing her in care? How and why was she placed in the ASK? What were her experiences as an Afro-German girl in public and private care after 1945? What happened to her when the ASK was closed? How did her life turn out when she left the public care system at the age of nineteen? Renate Müller-Klaasen is one of twelve men and women I interviewed for my PhD project, an empiric study on the life course experiences of Black Germans who grew up in care in postwar West Germany and the early Federal Republic.
Biography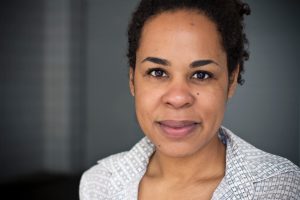 Azziza Malanda is a Ph.D. student in history at the University of Hamburg. She earned her MA from University of Cologne with a major in History, and minors in African Studies and German.