Friday, March 31, 2017, 9:00am – 6:30pm
Rutgers University – Camden
Sponsored by the Graduate School, Africana Studies, Childhood Studies, English, History, Liberal Studies, and Sociology, Anthropology, and Criminal Justice
Welcome to the conference website for Diverse Unfreedoms and Their Ghosts.  Rutgers University in Camden is excited to host such an eclectic gathering of established and emerging scholars as they explore this timely, yet profoundly enduring, topic.        
This one-day conference brings together research on the diversity of practices, identities, and institutions of unfreedom—in the past and present, in the United States and beyond—and how the ghosts of those diverse unfreedoms continue to inhabit, animate, and haunt the present. It aims to explore what freedoms and unfreedoms mean by examining four key moments or sites:
Relationships between diverse unfreedoms (such as slavery, imprisonment, captivity, serfdom, domestic service, caste, etc.) as people understand and negotiate them, in autobiographical narratives, fiction, court cases, disputes, etc.
Transitions between social institutions and practices of unfreedom.
Aspirations for freedom and the kind of utopian futures that are proposed as part of them.
The legacies, echoes, and traces of unfreedom in a context of "freedom."
Towards these ends, conference presentations will tackle a range of formations related to rethinking freedom and unfreedom in the United States and beyond, including (but not limited to) the meanings of democracy in post-apartheid South Africa, the traces of chattel bondage in the post-Reconstruction South, the surveillance of black women in public housing in the northeastern United States, the status of so-called liberated children in late-nineteenth century Senegal, definitions of autonomy in an Indonesian boarding school for girls, stasis and stillness as radical and redemptive political strategies, and apologies for white supremacy in the Civil Rights South.
Conference registration is now open.  Click here to find information about directions, parking, lodging, and other logistics.  All conference activities will take place in the Rutgers – Camden Campus Center.  It is the building fronted by a statue of Walt Whitman.  The address is 326 Penn St. Camden, NJ 08102.  If you should have any questions or concerns, please feel free to contact the conference organizers at diverse.unfreedoms@camden.rutgers.edu.
***
Keynote Speaker: Dr. Orlando Patterson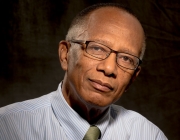 "Powers in Persons: An Anatomy of Unfreedoms from Slavery to Child and Bridal Servitude."
Multi-Purpose Room: 4:15 – 5:30 (click here for livestream).
A public reception will follow Dr. Patterson's talk.
Dr. Orlando Patterson, a historical and cultural sociologist, is John Cowles Professor of Sociology at Harvard University. He has previously held faculty appointments at the University of the West Indies, his alma mater, and the London School of Economics, where he received his Ph.D. His academic interests include the culture and practices of freedom; the comparative study of slavery and ethno-racial relations; and the cultural sociology of poverty and underdevelopment with special reference to the Caribbean and African American youth. He has also written on the cultural sociology of sports, especially the game of cricket. Professor Patterson is the author of numerous academic papers and 5 major academic books, including Slavery and Social Death (1982); Freedom in the Making of Western Culture (1991); and The Ordeal of Integration (1997). His latest book is The Cultural Matrix: Understanding Black Youth (2015).
***
Conference Program
(for PDF version, click Diverse Unfreedoms Final)
8:30 – 9:00

Breakfast and Registration

(Multi-Purpose Room)

9:00 – 9:30

Welcome

(Multi-Purpose Room)

9:30 – 11:00

Spotlight Panel

(Multi-Purpose Room)

11:00 – 11:15

Coffee Break

(Multi-Purpose Room)

11:15 – 1:00

Panel A: The Paradox of Freedom

(South Conference

Room A)

Panel B: Ghosts of Unfreedom

(West Conference

Room A)

1:15 – 2:15

Lunch

(Multi-Purpose Room)

2:15 – 4:00

Panel C: Reimagining Freedom

(South Conference

Room A)

Panel D: The Carceral State

(West Conference

Room A)

4:00 – 4:15

Coffee Break

(Multi-Purpose Room)

4:15 – 5:30

Keynote

(Multi-Purpose Room)

5:30 – 6:30

Reception

(Main Lounge)
Spotlight Panel
Location: Multi-Purpose Room, 9:30 – 11:00
Panel Discussant: Keith Green, Rutgers University, Camden
"From Slave to Ward of the State: Liberated Minors in Late Nineteenth- and Early Twentieth-Century Senegal": Kelly Duke-Bryant, Rowan University
"The Aesthetics of Disenchantment in Sylvia Wynter's The Hills of Hebron": Margarita Castroman, Rutgers University, New Brunswick
"Out of Pocket: Girlhood, Respectability, and the Afterlife of Slavery": Savannah Shange, University of Pennsylvania
"Reimagining Mercy as a Place of Freedom": Alexandra Cox, SUNY & Dwayne Betts, Yale University
Panel A: The Paradox of Freedom
Location: South Conference Room A, 11:15 – 1:00
Panel Discussant: Chinyere Osuji, Rutgers University, Camden
"Negative Freedom or Unfreedom of Anti-Communism During the Cold War": Norman Markowitz, Rutgers University, New Brunswick
"Fighting for the Right to White Supremacy in America: Civil Rights for Blacks as 'Unfreedom' for Whites": Neal Allen, Wichita State University
"A Tyranny of Democracy: Producing Unfreedom in Post-Apartheid South Africa": Amber Reed, Drexel University
"Operation Underground Railroad and the Problem of Historical Analogy": Meredith Bak, Rutgers University, Camden
Panel B: Ghosts of Unfreedom
Location: West Conference Room A, 11:15 – 1:00
Panel Discussant: Wayne Glasker, Rutgers University, Camden 
"Hegel's Dialectic of Capitalism and Slavery": Rafey Habib, Rutgers University
"Post-Apartheid Nostalgia and Cycles of Unfreedom": Zamansele Nsele, Rhodes University
"The Blood that has Dried in the Codes: Sovereignty, Right, and the (Im)Possibilities of Freedom": Heidi Andrea Restrepo Rhodes, CUNY
"The Last Slaves of Mississippi: History, Memory, and Power in Twentieth-Century America": Max Grivno, University of Southern Mississippi
"It's the Living Who's Haunting the Dead: Social Death and the Politics of History": Jamie Warren, CUNY
Panel C: Reimagining Freedom
Location: South Conference Room A, 2:15 – 4:00
Panel Discussant: John Wall, Rutgers University, Camden 
"Sketching Black Citizenship after the 15th Amendment": Derrick R. Spires, University of Illinois
"Freedom as Non-Movement: Race, Religious History, and Carceral Ethnography in Chicago": Kai Parker & Ray Noll, University of Chicago
"Black Girlhoods, Home, and Resistance in Paule Marshall's Brown Girl, Brownstones": Samantha White, Rutgers University, Camden
"A Gate Around Your Heart: Freedom and Moral Education in an Indonesian Islamic Boarding School for Girls": Claire-Marie Hefner, Manhattanville College
"RIP: An Anti-RIP Theory on Crimes Against Humanity": Viviane Saleh-Hanna, University of Massachusetts
Panel D: The Carceral State
Location: West Conference Room A, 2:15 – 4:00
Panel Discussant: Brandi Blessett, Rutgers University, Camden 
"Crime, Deportation, and the Paradoxes of Freedom": Nina Siulc, Rutgers University, New Brunswick
"Surveillance of Black Women and Confinement to Criminality": Odilka Santiago, Binghamton University
"Reparations and a Call for Effective Transitional Justice: The Criminalization of Peruvian Children of Color": Janice Stiglich, Rutgers University, Camden
"Microphysics of Unfreedom: Children's Responses to the Binds of Urban American Schooling": Anna Beresin, University of the Arts
(To read abstracts of each paper, click on the next page)